< prev step - 0 - 1 - 2 - 3 - 4 - 5 - 6 - 7 - next step >
Now, we have to subtract voltages, in order to obtain the output voltage VOUT = VRS - VRC. For this purpose, we need a subtractor (or a summer acting as a subtractor).
The simple series summer (built according to II Ohm's law) doesn't help us since the input voltages are connected in one and the same direction (+ -, + -) along the line. So, we will get their sum instead the difference. We will use this arrangement later, in order to build a constant current source.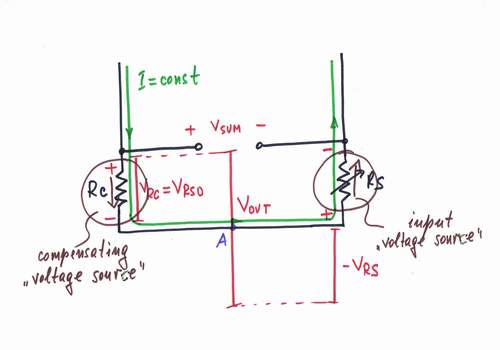 Then let's use the other possible summing circuit - the parallel resistive summer (built according to I Ohm's law). This simple circuit consists only of two resistors R3 and R4.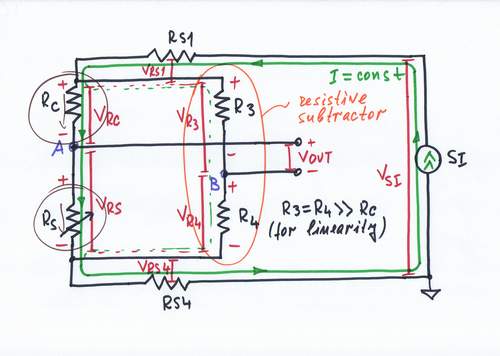 Now the input voltages VRS and VRC have an opposite polarity (referred to the middle point A between the resistors RS and RC); the voltage VB of the other middle point B between the resistors R1 and R2 (referred again to the middle point A) is the difference desired between the two input voltages. The output voltage VOUT = VAB is floating; so, we need again a differential amplifier.
If you wonder how this bare resistive circuit subtracts the input voltages, look at the voltage diagram below .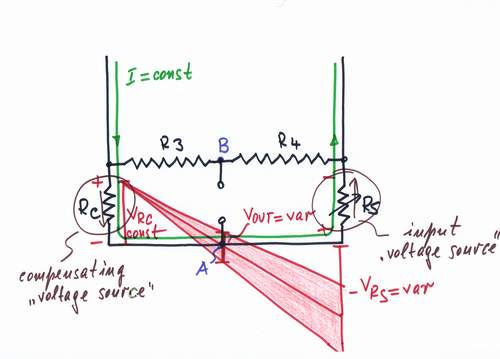 A question: What is the relation between the values of VRC, VRS, R3 and R4?
An important consideration: We want RS to act as a perfect current-to-voltage converter. So, in order not to affect the current flowing through the sensor, the resistors R3 and R4 have to have high resistance (e.g. R3 = R4 = 100k); otherwise, they will shunt the sensor. What do you think about this speculation? Check it!